Real Comments from Real People
Following are testimonials from our actual clients using Draft Decor's magnetic fireplace vent covers.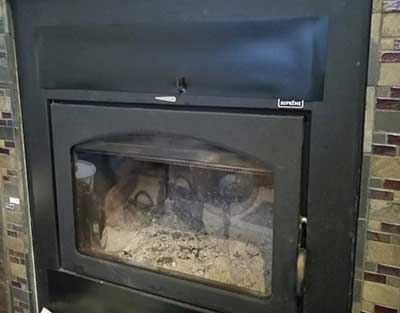 Love the magnetic covers. Had to trim a tiny slot for the vent flue. Had a 100mph zero degrees cold front. It saved the heat in this room. Twenty degree difference. Thank you. Has paid for itself already.
Gale B
I forgot to let you know I received the fireplace vent covers after submitting an inquiry to the post office. I am not sure what happened on their end, but I am just happy I got the package. I wanted to let you know, this is a great product! Works as intended and looks very good and blends in perfectly with my black fireplace opening! No more cold drafts from the fireplace in my family room! I appreciate your customer service too. The fact you were willing to send me a replacement, no questions asked if I didn't get the first package was very much appreciated. The value, product and service will have me recommending your product to others. Again, thank you for this great solution!
Heng F
Last February, it was extremely cold for coastal NC. I walked past the fireplace and felt really cold air coming in. I checked the flue, but it was closed and no air was coming through it. Then, I realized that it was the vents and that there was no mechanism for closing them. The electric bill was the highest it had ever been! I "jury rigged" a really ugly way to temporarily seal the vents. The vent covers from Draft Decor fit perfectly and look great!
Lynn
THANK YOU SO MUCH! We just moved to a new home for us in April. This is our first Winter in the home. The draft coming through the bottom of the fireplace vent was blowing in COLD air....especially since it has been in the single digits the past week in Rochester, New York! I ordered the magnetic vent covers and they arrived in only two days. I just put them on after following all of the instructions and almost instantly the room was warmer!!! Seriously, I can not believe it! Thank you again for getting them to me so quickly and for providing such a wonderful and useful product! Hopefully my heating bill will show how purposeful this is for us!!
Mary, Rochester, NY
We live in New England and built a new house but unfortunately our fireplace unit has a significant draft that makes the area in front of the fireplace too cold to sit near when the unit is off. We purchased these magnetic vent covers with the hopes that it would solve the problem. I questioned whether the testimonials were real and they assured me they were. Unquestionably these have helped a great deal and I feel obliged to add my testimonial. Good price and a great solution. Trust me!
Brad R., Norfolk MA
Just wanted to drop you a note. I got my draft décor today. It took me less than five minutes to install them. They look absolutely outstanding. There is no draft at all coming from the fireplace. Rarely have I ever purchased anything that lived up to 100% of its advertised value. Please feel free to use me as an unsolicited endorsement of your product and outstanding service.
Bill Eilers
Thank goodness for the Internet! I cannot believe I didn't think to look for these vent covers sooner. I don't have to tape plastic garbage bags over the fireplace any longer. I ordered one of each to fit the top and bottom vents. There was an immediate difference in the room temperature, and they are actually quite attractive; they give a sleek look to the surround. I will be sharing your information with every one of my friends.
AW, Poconos, PA

Our items arrived yesterday... after they were placed on our fireplace, we noticed a difference immediately! This winter is going to be much better thanks to you!
Jen
I'm very impressed with this simple solution to my gas fireplace vent draft issue. I ordered it on a Monday and had it by Wednesday. You would never know it is on the fireplace!
I was also very impressed with the warning not to unroll it until it had been room temperature (extremely cold weather lately). I live in a new development and will recommend this to everyone!
Bill
Thanks ever so much. Before we got these vent covers, the area around the lower vent was 20°F below the rest of the house, and cold air was coming in. Now it's just a few degrees below, and there's no more cold air.
Patrick
Thanks for the really fast shipment! Got is yesterday and placed everything today!! Looks great and the AC coming from the fireplace is pretty much gone (purchased vent covers and Flue-zee)!! Thanks so much!
Ana B.
Just a quick note of thanks... we received our order yesterday, which is perfect. We live in NJ and it was a "lovely" 5 degrees this morning with a high of 12 today. Your product was exactly what we needed. First, thanks for creating this, second thanks for the very easy to use website with great information, third, thank you for making the ordering process so easy, and lastly, I greatly appreciate the email follow up after I completed my order. I just wanted to take the time to say thank you and that I appreciate the first rate product you provide, and the exceptional service you deliver. I cannot wait to brag to my neighbors about this!
Dan in New Jersey
Just wanted to say the Fireplace Vents work great. We are going through a really cold bitter spell right now & our family room is toasty warm with them on. It's nice to go to bed & know our house isn't going to fill up with cold air over night. We are so glad we got them from you.
Draft Decor Customer
Thank you so much for this wonderful product! We moved into our house last December and experienced a horrible draft in our family room thanks to the fireplace. All winter we had an old comforter rolled up under the fireplace to keep out the cold air. My husband said that there has to be something out there that we can purchase to block the air. He found your site! They are working!! Thank you too for the extremely fast shipping. We had them before Thanksgiving and enjoyed decorating for Christmas in our draft-free family room yesterday!
Michelle in Virginia
Hi Christy... got the magnets and have them on the vents! Thanks so much - what a simple idea that is sooooo worth it. I will pass on to neighbors!
Betty
Thank you for this brilliant idea!!
C K in Pennsylvania
Thank you for your prompt shipping. The product was a gift and the recipients are most pleased. The draft decor arrived on a day when it was -20 degrees. We installed the draft decor at once and the results were immediate.
Jill in Minnesota
Received my magnets, let them warm up on the refrigerator overnight and they fit perfectly on my fireplace. You flier was right in that I live in a townhome association and we all have the same fireplaces. I'll spread the word about your wonderful product and service. I'll be much warmer this winter. Thanks so much!
Pat
We got the correct size covers last night, and I applied them this morning, after keeping them on the frig overnight to straighten out, as you suggested. They look great, and work great. What an invention you made ... I will be sure to tell my friends.
P F
We received it yesterday and immediately installed it. It is great. Thank you for coming up with such a simple and effective solution to a problem that has confounded us for years!!
R K in Westchester, PA
I want to commend you on a simple, yet elegant solution to a problem. I'm angry at myself for not thinking of it first.
T M in Georgetown, MA
Thank you very much! These last few winters in Va have been crazy and I am tired of being cold! All my Christmas photos had my vents covered in plastic!!! Thanks again.
LC in Yorktown, VA
Wonderful, thanks. Great idea by the way, exactly what we needed.
KM in Newark, DE
You rock for coming up with this! I wish you the best and will keep your information handy to share with others! Stay warm and obviously, out of drafts!
GF
I am so excited to share this with my husband - he's talking about ugly curtains which would not work! Right now I have big floor pillows and blankets since we have plummeted to well below zero this winter!
BK